Solved: "Access Denied" errors when calling signtool.exe from PHP
SIGHntool, why must you give me such grief?
I have spent the last 8 hours trying to figure out why Microsoft's signtool.exe code signing utility refuses to work when called from PHP's system() or shell_exec() functions on my WAMP server:
C:\build> "C:\Program Files\InstallMate 7\Tools\signtool.exe" sign /v /f codesignedcert.pfx Setup.exe 2>&1

The following certificate was selected:
    Issued to: <redacted>.
    Issued by: UTN-USERFirst-Object
    Expires:   5/12/2012 6:59:59 PM
    SHA1 hash: <redacted>

Done Adding Additional Store

Attempting to sign: C:\build\Setup.exe

Number of files successfully Signed: 0
Number of warnings: 0
Number of errors: 1

SignTool Error: ISignedCode::Sign returned error: 0x80090010

	Access denied.

SignTool Error: An error occurred while attempting to sign: C:\build\Setup.exe
_Note: the 2>&1 at the end of the signtool call is essential if you want to capture error messages which are emitted to STDERR instead of STDOUT. Yes, I lost an hour or two just on that.
_
Dead ends
Windows 7 apparently sets the read-only attribute on all files, and it isn't easy to turn that attribute off. But since other file operations worked from PHP, this wasn't the issue.
Prefacing the signtool call with CMD /C didn't help.
Setting full control file permissions on the C:\build folder for Guest, SYSTEM, and any other user account I could think of didn't help either.
Wrapping signtool in a batch file was an exercise in futility.
The maddeningly frustrating thing was that signtool worked great when called from the command line — just not from PHP!
An aha! moment
The issue turned out to be pretty stupid, as they usually do. I merely had to change the account that Apache was running as to that of a normal user, instead of the default local system account.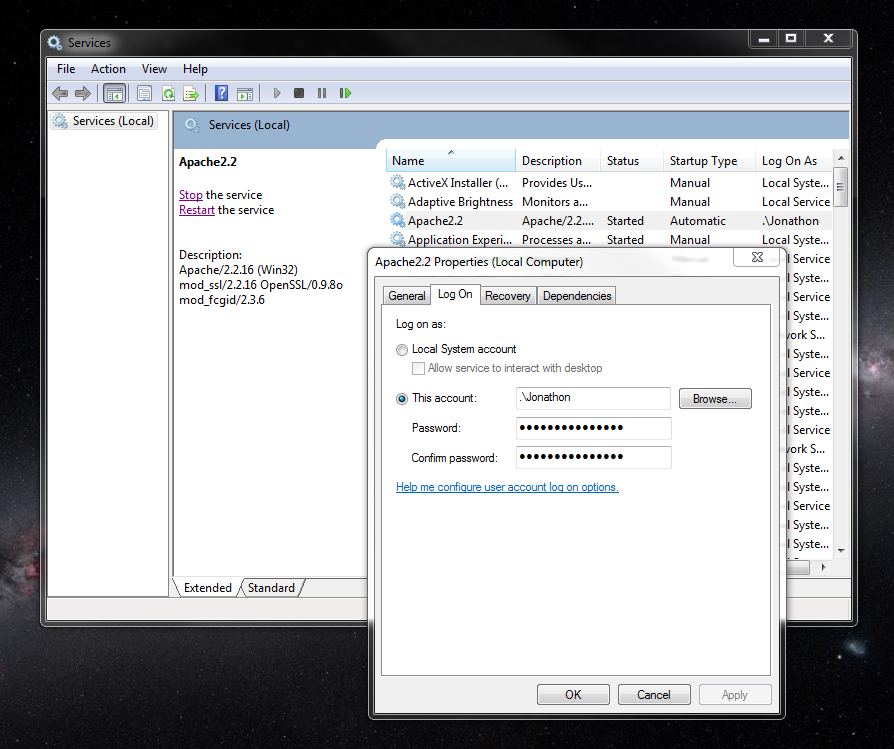 Written on May 26, 2011